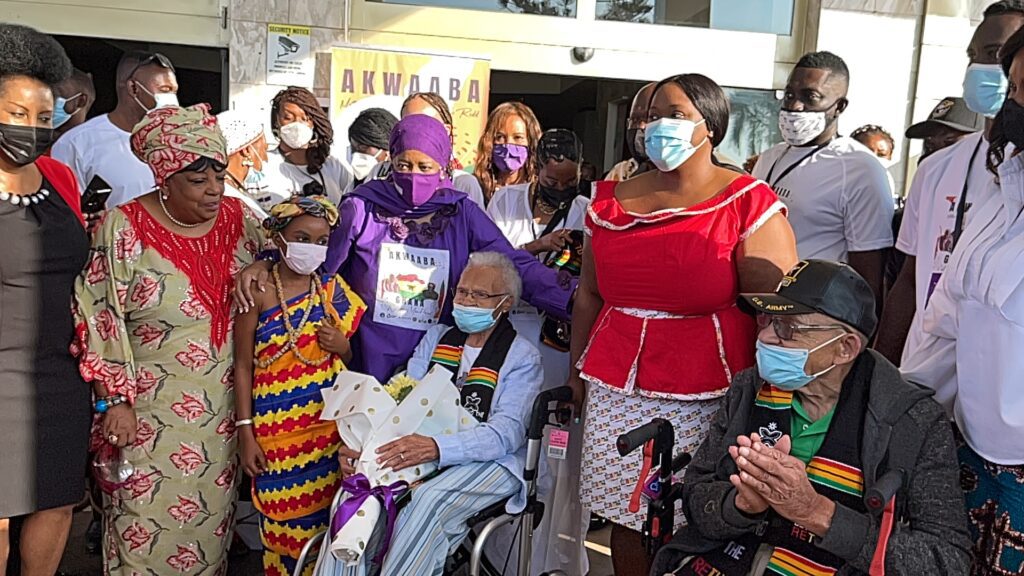 There was so much anticipation and emotion while waiting for the flight carrying two survivors of the Tulsa Race Massacre to arrive in Accra. In 1921, the area of Greenwood in the city of Tulsa Oklahoma was burned down by a mob of whites who targeted the thriving black community. Thousands were left homeless and many were killed in the attack. Viola Fletcher, aka, 'Mother Fletcher', who was 7 years old at the time is till haunted by memories of the viscous attack. She's often said that it's been a dream to visit Africa before she sees God and this journey would fulfill that desire. Fletcher, who is 107 years old, and her brother Hughes Van Ellis, aka 'Uncle Red' age 100, have successfully fulfilled the lifelong dream of coming to Africa when they landed in Accra yesterday afternoon.
Co-Founding Chair of the African Legacy Foundation, Dr. Toni Luck, who flew in from Johannesburg, South Africa and Ambassador Erieka Bennett, who is Head of Missions at the Diaspora African Forum, both were so filled with joy knowing that they were about to land in Ghana. "It's like waiting for my own grandmother," Bennett said. Dr. Luck, was pacing around the VIP lounge with so much excitement like a child on Christmas morning. She said she's met Mother Fletcher before, but this moment was more special than any other.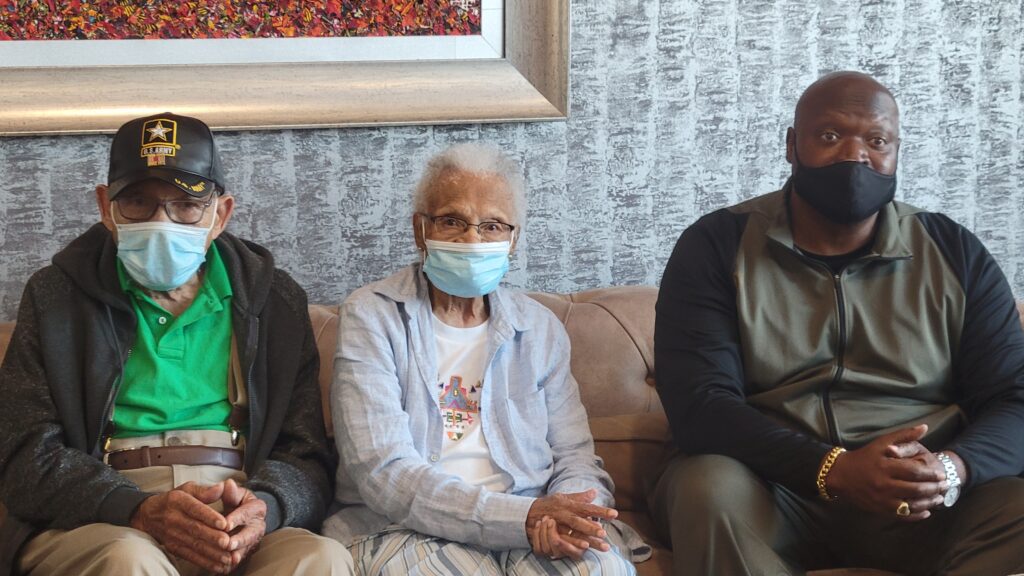 The two centenarian siblings made the historic journey with other family members and supporters. The trip wouldn't have been possible without the support of Michael Thompson, founder, and CEO of Our Black Truth, who sponsored the trip. "It's a dream to actually be here and I'm looking forward to learning more about Ghana," Thompson said upon arriving at the airport. Malee Vivian Craft, Uncle Redd's eldest daughter, came in the lounge just before her father and aunt did saying, "I'm very happy to be here. It's my first time on the continent of Africa and I am just thrilled to be here…and I hope to make friends and learn a lot." His second eldest daughter Muriel Ellis Watson was also part of the delegation and excited to be in Ghana.
When the car pulled up with the two centenarians everyone applauded with overwhelming joy. Mother Fletcher and Uncle Redd both stepped out of the airport car, grabbed their walkers and made their way into the VIP lounge to be greeted by everyone. After all the necessary protocols were taken care of at the airport, the siblings were escorted to their vehicles and made their way to their hotel where they were greeted with a true Ghanaian welcome featuring a cultural display of drumming and dancing in their honour. Uncle Redd was spotted moving his hands to the beat of the drum and Mother Fletcher's eyes showed true joy as her grandson, Ike Vernon Howard, spun her around in a wheelchair dancing to the music.
The Diaspora African Forum played a big role in coordinating with Our Black Truth to make this trip a success with the support of The Diaspora Affairs Office of the President, Beyond the Return and Ghana Tourism Authority. The coming week is filled with some activities that will give them an opportunity to experience Ghana, learn the culture and history while meeting some wonderful people. Fletcher and Van Ellis are in for the experience of a lifetime.
By Ivy Prosper
Related posts